Where the boss is always on the job

www.fryepainting.com/ home page
Ca Lic# 691537
Company

Information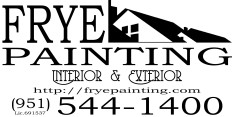 Frye Painting is more than just a painting contractor. I'm also a color and interior design expert assisting both residential and commercial clients. I offer high quality workmanship and all work is performed in a timely fashion. To ensure the best finish possible, I research and select top-of-the-line materials for each job. If you're looking for a painting contractor in Riverside, California, you owe it to yourself to call me first. I pride myself in building long lasting relationships with my customers and I'm confident my workmanship will meet or exceed the standards of the most discerning clients.
Free Estimates

Please do not hesitate to contact me for a free estimate. I will be happy to schedule an appointment that is convenient for you.
Pricing

My prices are very competitive when you are comparing the same service. I only use top quality paints with top manufacturers. I also focus on only top notch preparation in order to make my job last.
Paint Brands

I use Frazee Brand Paint which is a leading manufacturer and retailer of paints and coatings serving customers throughout California, Arizona and Nevada.
Process

I will will typically begin between 8:00am. and 9:00am. I'll typically work 8 hours except on the first and last days where I may leave early. I feel that communication is critical and you need to be informed on how your project will proceed.
History
I started painting in 1991 as a apprentice. It's been almost 20 years from that early time. Wow! I do truly enjoy painting. I love the finished product, I really do! The Lord has blessed me with a love and a talent that ended up in the painting profession, so I use it to bless my family. I love doing all the work by myself. I couldn't see me sending others to do my work. I have done painting work for other contractors that used to be on the job and see how the quality of their work goes down, since their not there. I'm usually busy from March to January and a little slow in February.
© Frye Painting. All rights reserved